Photos 2013 May
May 31
May 29 – Meeting at EWEB  15 members attended
Show and tell  –  Brad's YAK 54 from Valley View RC
May 28 – Doug McWha and Jim Corbett photos
May 25
May 24 –  Doug McWha photo
May 20 –  Doug McWha and Jim Corbett photos
May 19th – James Thomas photos

REAL B-17 fly by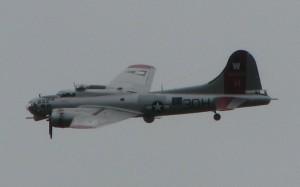 May 19th – Mike Winklepleck photos
B-17 Bomber circled our field 4 times in tight left hand turn around 400-600 feet.  It was awesome and you also could feel what it must have been like for the troops of our enemies.  Scary.
Mike Lee got a new twist and stuck a EVO 15cc Gas motor in it!  Oh and the day was nice… 0.0 mph wind from 8am until 11:00
then it picked up to 3.3 at 11:38 am.
May 15 –  Dwayne Graville photos
May 14
May 11 – ERCA represented at CRCF RC Swap and Shop
May 11 – James Thomas photos
May 10
May 9
May 8
May 7
May 3 – Doug McWha photos
May 2
2013 Photo Archives
Photos 2013 March    Photos 2013 April          Go to February and January 2013 Pictures