Don't see what your looking for here? Check out the new RCClassifieds section here!

Got something you want to sell / buy?                     Jump to the WANTED section
Email the Webmaster with the information.                           Link to CRCF For Sale Page
---
For sale UMX PT-17 Bind-N-Fly   SOLD
11-27-17  01-11-18
---
For sale convergence wingspan 25.5 in Bind n fly $100 John Levenhagen 541-747-8968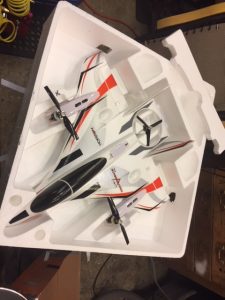 11-25-17
---
---
I have a 4 stroke OS 26 FS engine I would like to sell.
Asking $60 or best reasonable offer. Has about two hours on it.
Bill Martins   billmartins065@gmail.com
10-13-17
---
Gentleman's Estate Sale
Sept. 29, 30 & Oct.1 9am -4pm   ENDED
9-27-17  10-02-17

---
I have the following for sale:
1. Blade 350QX $200
Flown very little, no crashes
2. Blade 200QX $175
Original frame with slight crack near right rear motor pod
Manual and original box
NIB Phoenix Flight Gear 200QX Polycarbonate Frame
3 sets spare blades
2 batteries
3. Hisky HCP100S Dual Brushless Flybarless Heli $75
www.hiskyhobby.com
NIB (I bound it to a Tx but did not fly it)
3 batteries
Spare blades, tail rotor blade, msc parts
4. Multiplex Parkmaster 3D trainer $75
EFlite 450 motor
BNF
Manual
5. 55mm Hubsan propellers for micro quad (6 sets) $20 lot
Scorpion quad
100mm "Picnic" polycarbonate frame
107mm polycarbonate frame, 3 motors, unknown FC board
CG023 quad propellers (3 sets), 4 motors
6. Micro brushed 32 FC board $15
7. Parkzone Radian Pro
Moded and trimmed as per Paul Naton's Performance Tuning DVD
Manual
PNP $50
BNF $100
8. 3dhobbyshop.com Edge 540 "BuckHuck" $150
No crashes
Built using 3dhobbyshop recommended motor, servos, etc
PNP
Manual
9. Paul Naton's Radio Carbon Art DVDs: $35
Performance Tuning for Gliders
High Performance Thermal Soaring
Secrets of Thermal Soaring
10. NIB RC832 5.8G 32 channel AV Receiver $50 lot
Filter
Tx5823120228 with antenna
camera
11. FMS P51B Mustang Dallas Darling 1450mm(57") $180
36934 BNF
2 Admiral 4S 4000mAh batteries Dean connector
1 spare propeller blade
Drop tanks
https://www.motionrc.com/collections/warbirds/products/fms-p-51b-mustang-dallas-darling-pnp
12. Dynam P51D Mustang 1200mm(47") 463607 BNF $120
2 Turnigy 3S 2650mAh batteries Deans connector
https://www.motionrc.com/collections/warbirds/products/dynam-p-51d-mustang-1200mm-dy8939-pnp
13. Parkzone F4U-1A corsair, fixed rough field landing gear $100
BNF
Don Hansen
Voice/Text: 541-914-7302
Email: donnelhansen@comcast.net
8-10-17 11-26-17

---
Cessna 182
I live in the Pleasant Hill area and I have this kit I bought in 1985 and have stored it for 32 years! Go figure. The 72″ wing is done, ready for cover, the body is assembled per the attached pictures. All parts are there, plus lots of extra stuff I bought at that time.
Perhaps someone you know would like to finish this puppy.
My labor is worth zero, so I was thinking $100 for the kit as-is.
Saito FA-45
Not included with the kit, I also have the new engine still in the box, plus the starter. I am going to put the engine on Ebay for $125 if no one locally in your club is interested.
John Tyler
82320 Hanna Rd
Dexter OR 97431
541-937-3075
7-28-17  7-29-17
---
P51D MUSTANG     SOLD

12-23-16   5-13-1716
---
F4U CORSAIR    SOLD
12-23-16   5-13-1716
---
Extra 260  SOLD
11-02-16  11-08-16
---
P-39 Airacobra and O.S. 91 FX
A new in box Top Flite gold edition P-39 Airacobra kit.
Also an O.S. 91 FX Max (New in box) that was planned to go into the kit.
Ideally I would like to sell these together but will sell separately if needed.
Asking price is $385.00 for the pair together.
If sold separate, $250.00 for the P-39 and $185.00 for the O.S. 91 FX.
The P-39 is getting a little harder to find these days, so I'm pretty firm on the price. I'm willing to take reasonable offers on the .91 FX.
I can be contacted by mobile at (541) 580-8727 or email at corykmedford@gmail.com
10-16-16  11-27-17

---
---
4 STAR 60 SIG BUILT FROM A KIT  SOLD
10-21-16 12-9-16

---
DA-120   Like NEW  SOLD
05-06-16 05-07-16
---
Top Flite P-47D Thunderbolt Giant Kit 85  SOLD
12-23-16  12-31-16  01-02-17

---
FUNTANA 90 POWERED WITH DLE 20  SOLD
  12-28-16  12-31-16

---
---
Hangar 9 Taylorcraft  Scale ARF  SOLD
12-26-16  12-23-16
---
---
–
————————————————————————————————————————————————————
WANTED
————————————————————————————————————————————————————
WANTED – USED OR BROKEN INDOOR MODELS–RADIOS–BRICKS–MOTORS–GEARBOXES–ETC.
I PLAN ON MAKING STICK AND TISSUE INDOOR MODELS WITH THESE PARTS
I'M USUALLY AT THE WEDNESDAY INDOOR SESSIONS
TOM KOPRIVA
541-484-6048
freeflyer123@comcast.net
03-12-15
————————————————————————————————————————————————————
WANTED to buy older rc planes to display. No need to fly.  .Email nielsens1@frontier.com
01-08-12
———————————————————————————————————————————————————–
WANTED – Subject: Looking for vintage r/c radios, engines and tether cars for my collection
My name is Michael Diamond and I have been an active R/C flyer since 1969 (AMA 55859).  I am presently building a collection of vintage R/C radios, engines and tether cars and am writing to inquire if any of your club members may have any old radios or engines that they would like to sell
I am looking for radios, engines, and tether cars from the 1940's to 1980's and will buy 1 item or an entire collection.
My contact information is as follows:
Michael Diamond,  2784 Great Smokey Court, Westlake Village, CA 91362  Tel: 805/496-7656   e-mail:dgem@earthlink.net
I would appreciate it if you would pass this request along to your club members or possibly post it in your club newsletter if that would be possible.  Thank you in advance for your assistance.  Sincerely,   Michael Diamond
————————————————————————————————————————————————————